Aujourd'hui je me suis amusée (eh oui) avec les nouveaux tampons oiseaux Katzelkraft, des tags, des paint dabber et des glimmer mist. J'ai appliqué un ton clair de paint dabber et un ton plus foncé coordonné. Tant que la peinture était encore fraîche j'ai tamponné avec un tampon arabesque encré avec une encre dye (Distress en l'occurrence) et immédiatement après j'ai vaporisé généreusement avec des glimmer mist. La peinture et l'encre du tampon étant encore fraiches ça diffuse un peu et c'était l'effet recherché.
J'ai aussi essayé en vaporisant les glimmer avant de tamponner avec une encre permanente (India Black), l'effet est un peu différent puisqu'on tamponne dans quelque chose de très mouillé, c'est un peu plus difficile et l'effet n'est pas si différent à l'arrivée.
Les oiseaux sont tamponnés une fois que le tout est sec.
***English translation :
Today I have play with the new rubber stamps from Katzelkraft, some paint dabber and glimmer mist. I apply a light color and a bit of darker color of paint dabber then I stamp a swirl stamp in the fresh paint with distress and immediately mist some glimmer mist, as nothing was dry the glimmer was fusing, it was what I was expecting for.
I try to stamp with India Black AFTER the glimmer mist and it was more difficult as everything was very wet, but the result was nearlythe the same.
The birds are stamped when everything is dry
Cliquez pour agrandir / click to enlarge :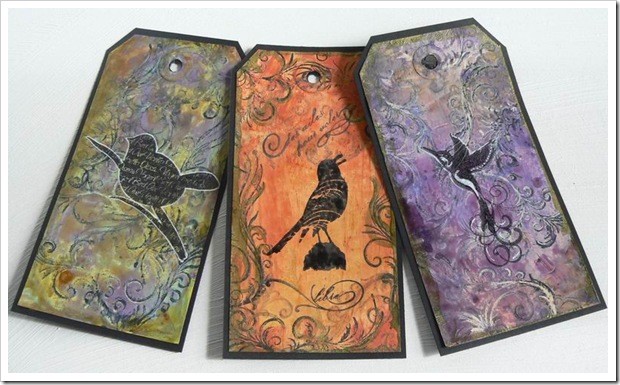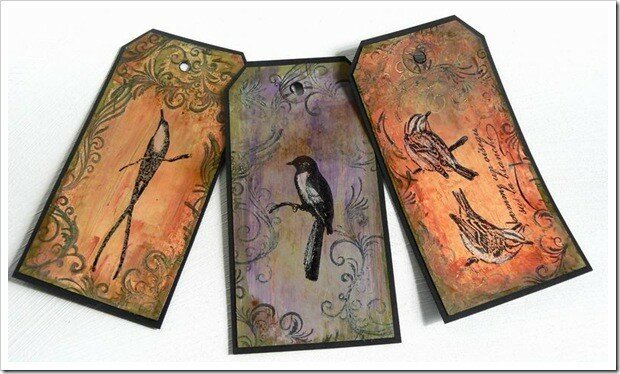 Cliquez sur les détail pour agrandir / Click to enlarge :